Valerio Adami
Bologna, 1935
Born in Bologna in 1935, Valerio Adami moved to Milan while still very young, where he attended the Brera Academy, studying under Achille Funi, who had founded the Novecento movement in 1922. During this period, Adami began to build up an international network of cultural and artistic relationships through his participation in solo and collective exhibitions such as Italian Artists at the Cambridge Art Association in Massachusetts, and Anti-procès, the show curated by Alain Jouffroy and staged at the Institute of Contemporary Arts in London, at the invitation of Roland Penrose. He went on to make a name for himself internationally, garnering recognition and staging major solo exhibitions, with a room being given over to his work at the 3rd documenta in Kassel in 1964. A retrospective of his output was held at the Pompidou Centre in Paris in 1985.
Read more
In the wake of an initial expressionist phase influenced by Francis Bacon, Adami's work underwent a shift towards a more gestural form of exploration. From the 1960s onwards, he concentrated his efforts on constructing a stylistic expression based on a new, comprehensive syntax. After moving to Paris, he travelled widely, visiting London, South America, India and the United States. All of these places exerted an influence over the composition of the scenes he painted, which betrayed a predilection for urban landscapes crowded with human figures. Indeed, he worked obsessively on the human figure, squeezing it into the restricted space of the canvas. Following his crowd scenes, he began to work on full figures and on portraits, often referencing episodes in his own private life or in public life, sometimes concerning historical figures. His painting moved closer to realism, but was rendered in a comic-book style that combined irony and whimsy.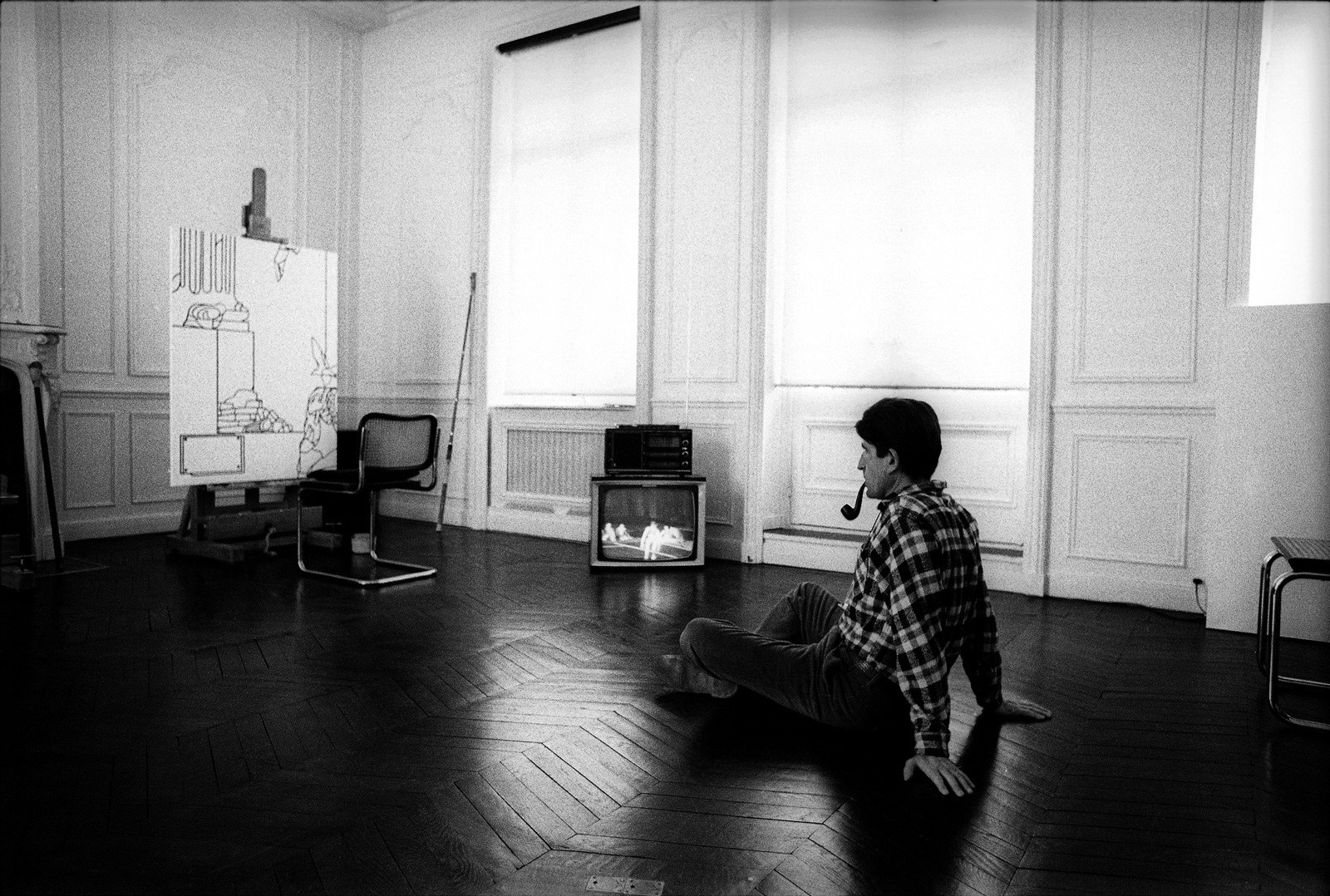 During the '80s and '90s, he participated in the 42nd Venice Biennale and produced panels for the hall of the Gare d'Austerlitz in Paris, the First National City Bank of Madison and the Nouvelle École Nationale des Beaux-Arts in Cercy Pontoise. Beginning in this period, Adami focused on paintings evincing his stylistic maturity. The colours became more intense, more saturated and brighter, while the compositions were divided up with great precision and the lines became cleaner and bolder; moreover, the construction of the space was freer, with fewer figures. Over subsequent years, his style did not change, as he preferred to maintain his uniqueness by underscoring an intention that was more descriptive than expressive. He became, as Henry Martin pointed out, "resistant to change". Of late, he has been working and living in Paris and Meano, dedicating all his energies to drawing and painting.